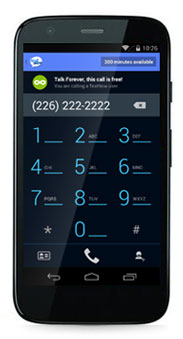 I published the article The Easy Way to Track a Cell Phone or Even to Track an Automobile a few days ago at http://goo.gl/bZr6Pr. In the article, I described a free Android and iPhone app that will track a cell phone's exact location and even offers the ability to lock the cell phone or to delete its contents remotely.
I use the app on my primary cell phone and also on a second, low-cost cell-phone that is kept in my automobile. I use the cheap cell phone as an emergency cell phone in case it is ever needed and also to track my auto in case my rather high-profile vehicle ever is stolen. If I receive a text message showing the cheap cell phone has moved, I can open a web browser on any computer, tablet, or cell phone and see the exact location of the cell phone and the automobile in which it is hidden. An immediate call to the police should allow for a quick recovery.
Writing in the Cheapskate Blog, Rick Broida today described an even cheaper cell phone and a cheaper cellular service. After reading his article, I realized it would be perfect for a low-cost automobile tracking service and as a cell phone kept in the automobile for emergency use.
Rick describes the refurbished Motorola Moto G Android smartphone that is now on sale for $14.99 (plus around $9 for shipping). It works with the TextNow cellular service. TextNow runs on Sprint's cellular network so it should work everywhere that a Sprint phone will work. The monthly charge for the TextNow/Sprint service is $18.99 per month, a price that includes 500MB of data and 750 rollover voice minutes every month. Use of the Prey app I described earlier should result in a lot less than 500 megabytes of data being used each month.
Best of all, there is no contract involved. You can cancel the cell phone service at any time without penalty.
To be sure, the Motorola Moto G Android smartphone has rather modest specifications by today's standards. It has an excellent reputation for reliability but limited memory, a smallish screen, no expansion capability, and only uses 3G data. In other words, it should be perfect for hiding in an automobile where it is unseen and only sends a small amount of data per month!
One drawback: I have no idea how long this sale will last.
You can read my earlier article, The Easy Way to Track a Cell Phone or Even to Track an Automobile, at http://goo.gl/bZr6Pr and then read Rick Broida's article about the Motorola Moto G Android smartphone being offered for $14.99 plus a $18.99 per month non-contract service plan at http://www.cnet.com/news/get-a-textnow-wireless-moto-g-for-14-99/.