Email was invented years ago when security was not a problem. As a result, email today is one of the most insecure services available on the Internet. We probably should stop using email except that billions of email messages are sent daily and it is almost impossible to convince millions of people to stop the one service they use the most. Yet secure email isn't just about protecting personal and business communications, it is also a basic human rights issue to preserve basic privacy and freedom.
Several companies have produced highly-secure email replacement services (see my earlier articles at https://duckduckgo.com/?q=site%3Aprivacyblog.com+secure+email) but none of them have been able to convince millions of people to abandon their present insecure email services. Now Witopia is creating a new service that works with any existing email services for Windows, Macintosh, Apple iOS (iPhone, iPad, and iPod Touch) and Android but reportedly adds highly secure encryption. The developers claim that you will be able to use the new email service in the same manner as you use email today. This means that your emails, as well as all of your attachments, are safe, secure, and private.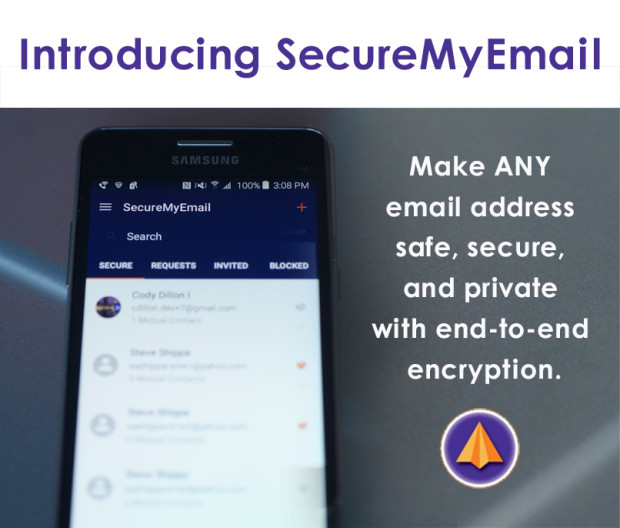 Best of all is the price: 99 cents per year. Even I can afford that! It is also promised to be ad-free.
SecureMyEmail™ is not yet available. It is being developed with funding provided by an Indiegogo campaign at https://www.indiegogo.com/projects/securemyemail#/.
SecureMyEmail™ promises to be available for any email address and will be used with very little change from whatever you are using today. It reportedly will work with Gmail, Yahoo Mail, Outlook.com, your work email, or any valid working email address. SecureMyEmail™ can encrypt my email, including any attachments, and will provide end-to-end encryption of the entire message and all attachments, if any.
Once available, to use SecureMyEmail™ you will need to:
Download SecureMyEmail™ onto whatever device(s) you use email on.
Enter your info and create a secret passphrase that only you know.
Generate your encryption keys and set up your secure email.
You are done!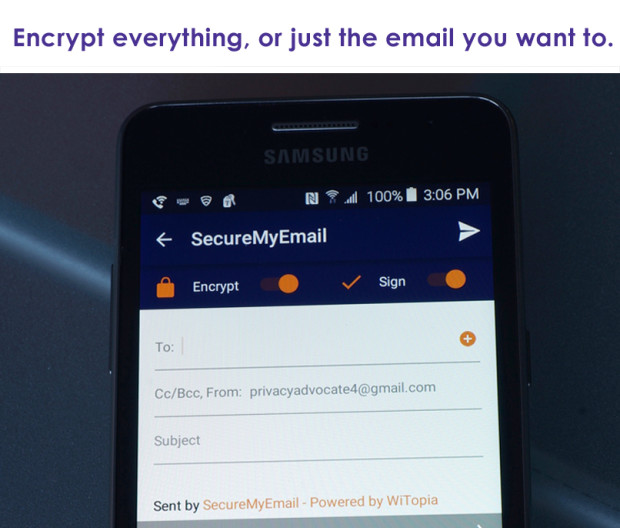 To send and receive secure, encrypted messages and file attachments:
Invite any contact with whom you wish to exchange encrypted email.
When they accept, the encrypted "channel" is created and you're all done.
From then on, just use SecureMyEmail™ as you would any other email software. Everything else is done for you.
A unique 4096-bit key is created for every user by default. (Most other encrypted email services use only 128 bits or 256 bits.) You also can regenerate these keys whenever you like. With encryption, even the SecureMyEmail™ employees cannot read your messages. Only encrypted data is sent over the Internet, all unencrypted text remains inside your computer.
The software developers point out that a hacker who wishes to crack your encryption keys and read your email messages will need a multi-million dollar super computer and several thousand years of computer time to crack a single encryption key. I'd suggest that is "good enough" security for most of us!
You can send unencrypted messages to anyone. Secure, encrypted messages can only be read by others who have SecureMyEmail™ installed in their computers and who have previously established a secure, encrypted "channel" with you. Anyone receiving an encrypted message will first see an invitation to try SecureMyEmail™ for a 30 day free trial. During that time, they can receive and read encrypted messages from you and from other SecureMyEmail™ users as sell as send their own encrypted messages. If they decide to keep SecureMyEmail™ after the 30-trial expires, they will need to join the service and pay 99 cents per year to continue sending and receiving encrypted messages.
You can use SecureMyEmail™ for all your email or just the email you wish to encrypt, while still using another email client or webmail for general use. You simply use SecureMyEmail™ to read your encrypted email.
SecureMyEmail™ is being developed by Witopia, a company well-known for supplying one of the most popular VPN (Virtual Private Network) services. The SecureMyEmail™ servers are in Switzerland, a country with laws that prohibit an email service from disclosing email messages to anyone other than the intended addresses. Even if served with a court order, Swiss email services are not allowed to provide private information to any government, corporation, or individual, not even to the Swiss government!
Witopia hopes to launch SecureMyEmail™ next month: April, 2016. As part of the funding campaign, Witopia is offering the encrypted email service alone or, for only a few more dollars, bundled with Witopia's VPN service. Details may be found at https://www.indiegogo.com/projects/securemyemail#/.
I signed up for the SecureMyEmail™ beta test today. I already have Witopia's VPN service and use it every day so I didn't sign up for any of the "bundled options." I plan to write about SecureMyEmail™ after I have used it for a while.
Categories: Email Security, Encryption